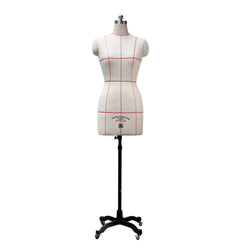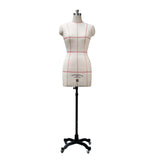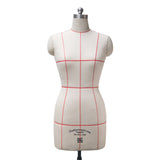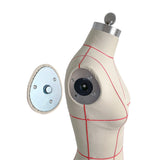 Female Professional Tailor Dummy
All our dressmakers' forms, tailor's dummies and legs for trousers making are provided with the classic black wheelable metal base which is the stablest base to work on. The height can also be adjusted. As a symbol of quality, all our dressmaker's forms and tailor's dummies are printed with the black The Mannequin's logo.
Professional dressmaker's bustform
Product Code: FTD
Grade: A+++
Fully pinnable
Suitable for dress making
Magnetic shoulder cap
Height adjustable
Supported by a

Black cast iron base with wheels

Available with or without key reference red line marked
Package Includes: 1 tailor dummy, 1 wheel stand
Measurements (CM)*
SIZE 
Collar: 33
Bust: 80
Waist: 60
Hip: 86
Shoulder: 37
80
Collar: 33.5
Bust: 82
Waist: 62
Hip: 88
Shoulder: 37.5
82
Collar: 34
Bust: 84
Waist: 64
Hip: 90
Shoulder: 38
84
Collar: 34.5
Bust: 86
Waist: 66
Hip: 92
Shoulder: 38.5
86
Collar: 35
Bust: 88
Waist: 68
Hip: 94
Shoulder: 39
88
Collar: 36
Bust: 92
Waist: 72
Hip: 98
Shoulder: 41
92
 * These measurements can vary of 1-2 cm because of the handcrafting and because of the paper reaction.
If you need details about our services or would like to know more about our mannequins, please don't hesitate to get in touch with us using the following contact information:
Showroom:
201 Henderson Road
#03-24/25 Apex@Henderson
Singapore 159545
Tel:
(65) 6732 5778

Showroom visits are strictly by appointment only. Thank you for understanding.
If you have any specific requests, send us an email at: sales@themannequin.com