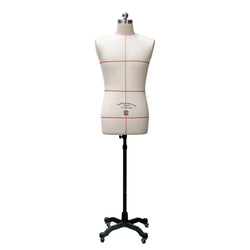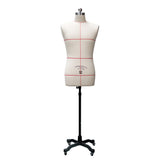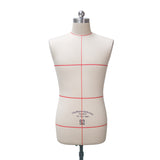 Male Professional Tailor Dummy
All our dressmakers' forms, tailor's dummies and legs for trousers making are provided with the classic black wheelable metal base which is the stablest base to work on. The height can also be adjusted. As a symbol of quality , all our dressmaker's forms and tailor's dummies are printed with the black The Mannequin's logo.
Industry grade professional dressmaker's bust-form
Professional & high-quality product - used by tailors and designers - this product will fit most tailors' needs
Full body is fully pinnable - pins go in fully
Strong, heavy-duty canvas covering will ensure you'll use it for a long time
Body height can be adjusted up and down on the rolling base
The magnetic shoulders are easy to attach & detach
Supported by a sturdy metal wheelable base
Package Includes: 1 tailor dummy, 1 wheel stand
Collar: 38
Chest: 88
Waist: 74
Hip: 90
88
Collar: 39
Chest: 92
Waist: 78
Hip: 93
92
Collar: 40.3
Chest: 96
Waist: 82
Hip: 97
96
Collar: 41.5
Chest: 100
Waist: 86
Hip: 100
100
Collar: 42.5
Chest: 104
Waist: 90
Hip: 103
104

Collar: 44
Chest: 110
Waist: 94

Hip: 108

110
 * These measurements can vary of 1 cm because of the handcrafting and because of the paper reaction.
If you need details about our services or would like to know more about our mannequins, please don't hesitate to get in touch with us using the following contact information:
Showroom:
201 Henderson Road
#03-24/25 Apex@Henderson
Singapore 159545
Tel:
(65) 6732 5778

Showroom visits are strictly by appointment only. Thank you for understanding.
If you have any specific requests, send us an email at: sales@themannequin.com